Group Fitness Classes
Our group training facility is semi private meaning that you won't get lost in big classes. It also ensures that we can offer each and every one of our clients personalised attention and our facility isn't intimidating.
We cater for all fitness levels and you are encouraged to go at your own pace, working to your personal goals.
Our class numbers are capped to give you the individual attention you deserve. BOOKINGS REQUIRED for classes. Text 0428621200 or via our Facebook page.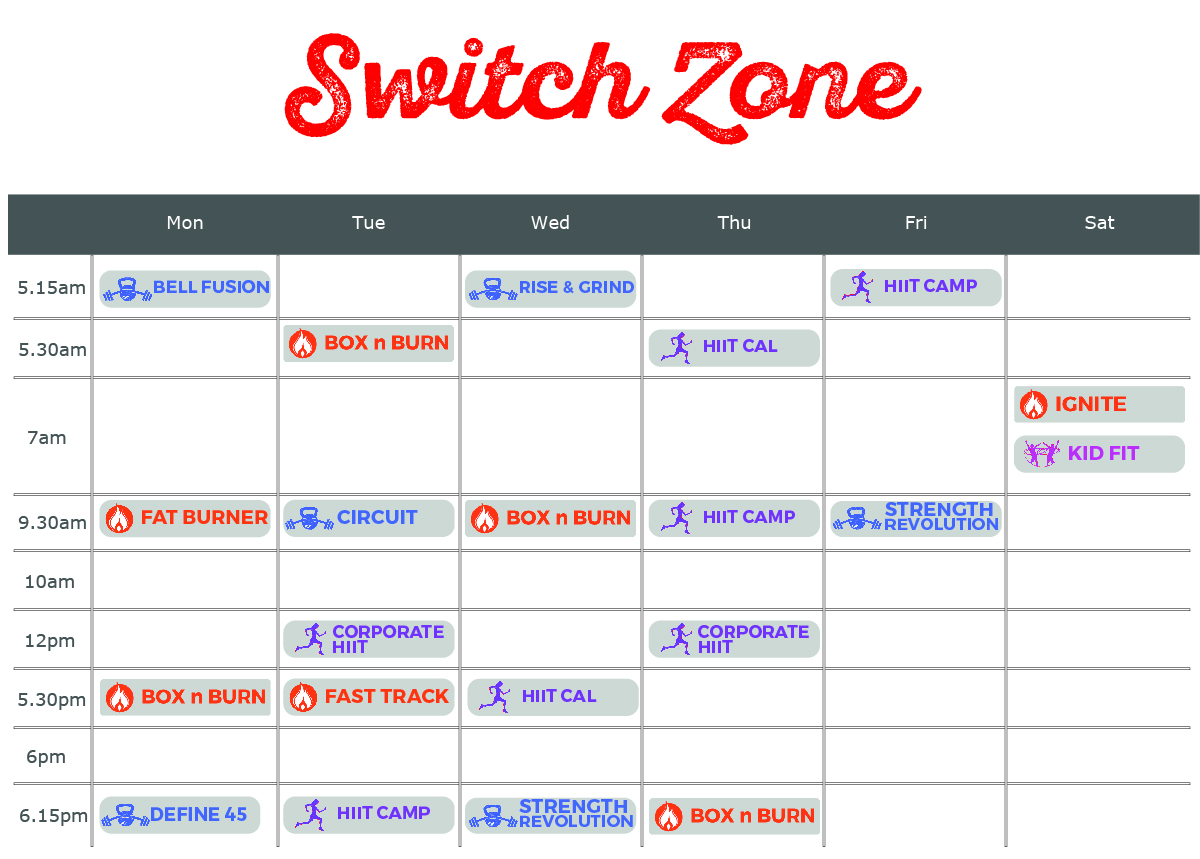 *KID FIT CLASSES NOT INCLUDED IN MEMBERSHIP

Switch Strength
Bell Fusion
Kettlebells, barbells and dumbells fused together to bring you one incredible workout. Help kick all your fitness goals into gear by working multiple muscle groups simultaneously, developing strength and conditioning and all over muscular endurance and fitness.
Define 45
Focusing purely on strengthening your abs, butt and thighs. A combination of strength enhancing and muscle defining exercises that will target common problem areas.
Rise & Grind
A full body workout for those who love the early morning fitness grind.
Strength Revolution
Strong is the new sexy! Strength revolution pushes you to increase muscular strength and endurance with exercises designed to test your limits. Lift heavier, row further, run faster, because your strength revolution starts now.
Circuit
Chasing a full body workout? Circuit incorporates the benefits of interval training through a range of various weight and cardio exercises. Pick your starting station and see the results fast.


Switch Burn
Fat Burner
A dedicated full body workout that is designed to help you shed those extra calories, incorporating circuit and high intensity training. This class will see you hit your physical peak, every single time, no matter your fitness level
Box n Burn
Box your way into fitness with our high intensity workout utilising fundamental boxing techniques. This class is sure to challenge you physically and mentally as you kick, jab and knee your way to achieving those fitness goals.
Fast Track
A fast paced, 30 minute cardio burning workout that is guaranteed to make you sweat. Ideal if you are short on time and want to burn maximum calories. A high energy workout combining HIIT and Tabata principals.
Ignite
A fitness class that is never the same but always delivers. You will never know what to expect. From kettlebells to circuits to interval training, this class aims to boost fat loss by offering variety in its challenges every week.


Switch HIIT
HIIT Camp
BodySwitch's infamous indoor bootcamp, featuring sleds, battleropes, ball slams and chains for a full body sculpting workout.
HIIT CAL
A HIIT style circuit with interval timings based on achieving calories burnt. Combines a mixture of weights and cardio.
Corporate HIIT
Make the most of your lunch break! Get in and out with 30 minutes of HIIT. A full body cardio and weight class that is guaranteed to spike your heart rate and continue to burn calories even when you're finished!
Switch Kids
Kid Fit
With the current prevalence of childhood obesity, it's time to educate our youth and guide them towards a healthier and more active lifestyle. Kid Fit aims to exercise fundamental motor skills through exciting games and physical activities. Our aim is to educate children that being active is vital to living a happy and healthy lifestyle.