Read how she stayed motivated to lose nearly 30kg whilst becoming a happier and healthier person and smashing her fitness goals.
You may have seen images of our client Yasmin working out and smashing goals on our Facebook page, but we thought we would share a more personal insight into Yasmin's fitness journey.
Yasmin, like all of us, has struggled with motivation but in the last 9 months has found the right environment and mindset to knuckle down and achieve greatness!
Yasmin is a busy mum of two children who works fulltime and juggles a work life balance with her husband travelling frequently for work. She is time poor but made a decision to put her health first and hasn't looked back. She has now lost just under 30kg, an amazing achievement. The most fantastic thing for Yasmin is that she is not only so much healthier; she is also a happier and more energetic person. Although she is loving the external changes, she is also so proud of her internal growth as a person.

Hats off to you Yasmin, you are a shining example of what determination, the right environment and support network can achieve. We are all so thankful to have you as part of our gym family, sharing your support, learning's and motivation with our other clients.
We recently caught up with Yasmin to find out more about her journey.
1. What have been some of the major changes to your lifestyle?

The biggest change is making my health a priority. I ensure that I plan my day around having some activity in it, most days it is a session at Bodyswitch but on other days it might be as simple as some stair runs at home or a walk with the kids. It really has become a way of life for me.

2. What encouraged you to start with BodySwitch and how has your experience been so far?

I was away with some friends for a girl's weekend and they told me how amazing it was. Flexible, caring and not intimidating. I had seen their results first hand so decided to give it a go. I haven't looked back. The classes are adaptable to everyone's own level you can go as slow or fast as you want, as light or as heavy as you need. The atmosphere is caring and supportive and those who are more experienced are always there to give a work of encouragement or advice.

3. What advice would you give someone looking at starting a similar journey to yours?

Don't delay! The changes on the outside are nothing compared to the amazing change you will feel on the inside. Your health is worth the investment!

4. What has been your biggest hurdle to overcome so far?

Self doubt. I didn't think I could because I never have. I was never strong or had much fitness and didn't believe I could be fit, but Kody has continued to push me just past what I think I can do each and every week which has seen me achieve what I never thought I could.
Time is also a big one. With two kids under six, a husband who travels and a busy full time+ job the flexibility in classes offered has been a godsend.

5. What has been your biggest achievement so far?

I set myself a very ambitious goal of 10kg lost in the 12 Week challenge and was so excited to achieve 11.9kg. I may have already lost 15 kg in the 6 months prior, but to achieve so much in such a short amount of time and to actually be able to see the tiniest bit of muscle definition beginning to form was definitely a highlight. It really is a credit to the amazing team atmosphere at BodySwitch and the training and food plan provided. Bring on the next 8 week challenge! See Yasmin's results from the 12 week challenge below.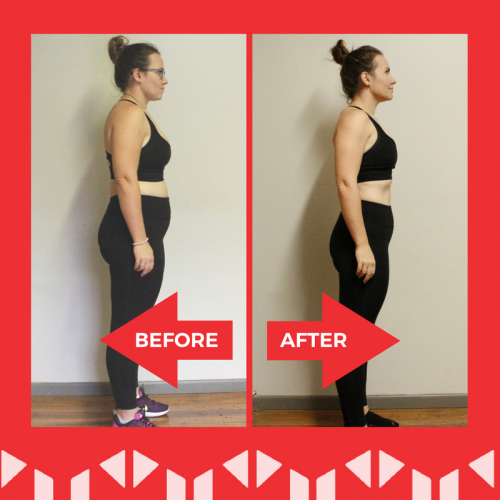 Yasmin has participated in our recent 12 week challenge but is also looking forward to our upcoming team challenge that kicks off on 10th July. Want to join her and kick some goals of your own?
CALL US ASAP. Limited places are available.
You can also get in touch on Facebook!